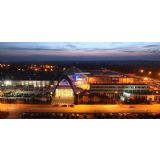 Kielce Trade Fairs (Targi Kielce S.A.) is a professional and experienced events' organizer - 400 conferences and 60 fairs every year.

Congress and Exhibition Centre of Kielce Trade Fairs is the biggest and most modern centre in eastern Poland.

In the Congress Centre there are 11 conference rooms and 7 halls. From 2013 additional venue will be built. It will contain a lookout tower and 5 new conference rooms for over 1 000 participants.