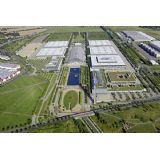 Leipzig Exhibition Centre - the top address for international business

With more than 800 years of history, Leipziger Messe is one of the world's oldest trade fairs. Flexibility, the power of renewal, and a wealth of innovative ideas are part and parcel of our tradition.

Being a modern service company, Leipziger Messe today features a concept that points the way ahead, and a structure geared to the needs of the market.