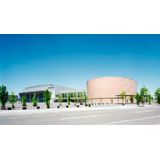 The Main Hall can easily accommodate large conferences and is innovatively styled as a multi-purposes venue. It can function as a main hall with a capacity of 2,500 seats, or it can be used as an exhibition hall with approximately 2,600 square meters. The rear of the hall is equipped with moveable seats, and is ideal for various types of events.

The Conference Hall creates an impressive atmosphere. It is equipped with simultaneous interpretation system for six languages. It has a capacity of 700, and can be used for international conferences, as well as other meetings and congresses.

The Mid-sized Hall is suitable for middle to large conferences with approx. 200 - 600 attendees. As a reception hall, the hall can accommodate approx. 270 guests for dinner style, and 400 guests for cocktail style. The hall can also be partitioned into 2 small halls.