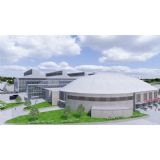 At the Arkansas State Fair Complex, we have over 120,000 square feet of event space,
a Coliseum with seating for 10,000 people, meeting facilities with an average seating for 4,000 people and ties for almost 500 cattle.
Our versatile, 140-acre, 6-building complex can host any kind and size of event.
From a small meeting to a large convention, from a sporting event to a concert and from a horse show to a black-tie celebration,the Arkansas State Fair Complex is your facility of choice in Central Arkansas.
The State Fair Complex is only five minutes from downtown Little Rock and a short drive from the Clinton National Airport.