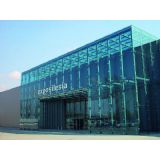 Expo Silesia - a new exhibition centre in the largest Polish agglomeration

Expo Silesia is a new facility on the map of Polish trade fair centres. It is located in the city of Sosnowiec, in the Silesian conurbation.

The trade fair centre, taking up an area of more than 17 hectares, is excellently accessible by car and public transport. International airports, motorways, expressways, enormous industrial agglomeration - all of them located nearby - provide great exhibition opportunities.