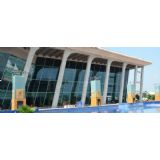 Mahatma Mandir draws inspiration from the life and philosophy of the father of nation, Mahatma Gandhi. Planned on the central vista in the capital city of Gujarat, it is truly the gateway to Gandhinagar.

Spread in about 34 acres, this iconic structure has spacious and low energy consuming Convention and Exhibition Center, well equipped with state of the art facilities, amazing landscaping & water bodies to hold multifarious event of national and international stature.

The Convention Center and Exhibition Halls are designed to meet with the requirements for organizing Global Meets, Conventions, seminars, conferences, exhibitions of both national and international level with the state of art facilities. Convention Center has column free air conditioned halls, suitable for organising conference with huge seating capacities in various styles. In the theater style seating arrangements, the Main Hall has seating capacity of 6000 persons. The main hall can also be participated in to 3 seminar halls to Simultaneously have separate programs.